You can apply for your Fast Cash Advance in...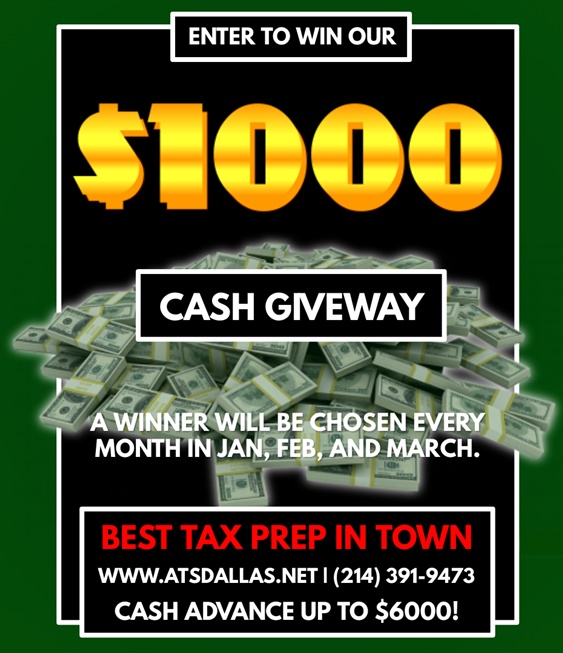 How to ENTER: File your 2020 tax return with ATS Dallas and refer a minimum of 5 new clients
Rules: Refer a minimum of 5 new customers (must file their taxes with ATS Dallas) and your name will be added to the drawing. The more you refer the better your chances. At the end of every month (Jan 31st, Feb 29th, Mar 31st) a winner will be chosen. You have a chance to win $1000 each month for a total of $3000!!
What Our Clients Say
I have had so much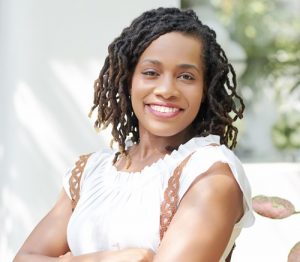 I have had so much peace of mind working with Ananiah's. Even though tax season makes me nervous they are always patient and understanding. They are always willing to help me understand the process. They give me peace of mind. I highly recommend their services.
Cheryl Gills
Ananiah's is a nice company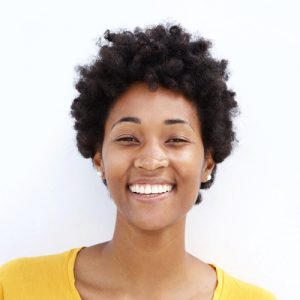 Ananiah's is a nice company. They explain everything to you about your tax issues. They will try to get you more money than most tax preparers. I would recommend them for all your tax needs.
Jennifer Williams
Ananiah's helped us and a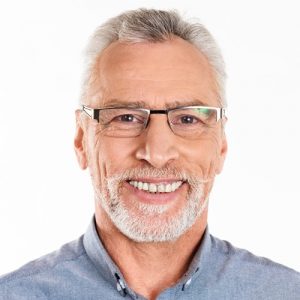 Ananiah's helped us and a lot of our relatives get the most back on our yearly returns. They will always go the extra mile while explaining everything clearly. Their staff has great customer service that made the whole experience fast and painless. We recommend 100%!
Carlos Amparan
This lady Felicia Thomas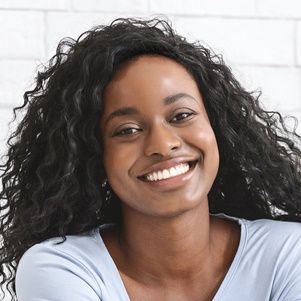 This lady Felicia Thomas has been doing my taxes for over 15 years, and yes I am that last minute client that call with "o know it's your birthday" or "I know you're going out of town" but do you think you can get us done? And SHE has not failed me yet. I've watched grow over years and couldn't be happier for you. May God continue to open doors for you. 
Congratulations
Denise McCloyn
One of the top tax services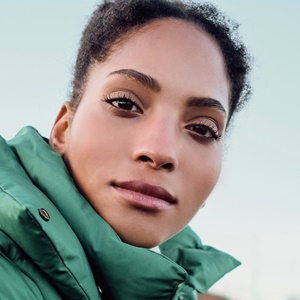 For YEARS I've had horrible luck with my taxes. People are so ungrateful and greedy. It's so hard to find somebody trust worthy and knowledgeable. Last year the Lord sent this jewel my way and I'm sooooo glad he did!
So if you're looking for a good tax service, Ananiah's Tax Service is one of the top tax services for businesses and personal. You will be amazed!
Cherrell Goines
God puts people in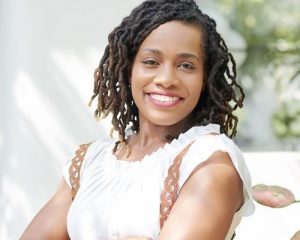 God put people in our life for a reason and for a season for a short time or a lifetime. I truly believe that God put Felicia in my life for a lifetime. I met Felicia 15 years ago. She has been a inspiration to me when my mother passed away. Felicia showed genuine concern about my well-being and lifted my spirit up. It's very hard to find a true friend and genuine friend. The most important thing is how much Felicia cares about her clients and how much she goes out of her way and shows concern . She's always going to be honest and upfront with her clients. She takes pride in her work in every situation. She has a good heart and will try her best to help just about anyone if she can.
Francinhe Lync
N/A
Mrs. Felicia is the best.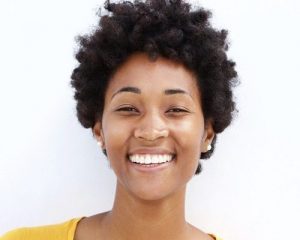 Mrs. Felicia is the best. She helped me through a tough time in my life. The person who prepared my taxes before her, "adjusted" numbers so I would receive more than what I should've. The problem was, I didn't know and they pocketed a large portion of the money. That caused me to get audited for 2 years in a row. When I contacted them about being audited, they left me to deal with it all on my own. Mrs. Felicia walked me through the whole process. She is very thorough, professional and sweet. I would recommend her to anybody.
Tiffany Isaac
Felicia has been nothing but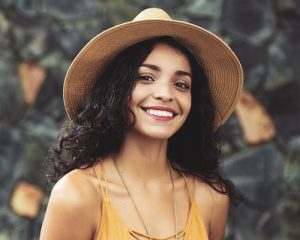 Felicia has been nothing but help with my tax problems. She has assured me everything will be ok, and I know she has everything under control. I will never go anywhere else.
Angela Hernandez
I walked into this office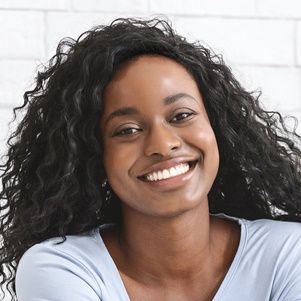 I walked into this office worried and at a complete loss as to where I was to begin with my taxes. I hadn't filed in several years, my situation/income had changed my filing status had changed, nothing in life was as it had been prior years. I was referred here by a very impressed client. When I finally went in on a whim I was unprepared and nervous to say the least. Felicia introduced herself and assured me there was nothing to worry about. SHE WAS RIGHT!! In no time she had prepared my taxes, for TWO YEARS!! She was able to pull every bit of paperwork I should have brought in with me, because I had nothing none of it, and said I should receive my checks fairly quickly. My taxes were accepted by IRS immediately and processed and before I was even ready I had my tax return! I will always be her biggest fan! Thank you Felicia for getting me worked out. I will be sending my tax info directly for my second of hopefully many years that I will be your loyal customer!!
Jessi May
Contact Us
Email:
support@atsdallas.net
Fax Number:
(214) 276-7507
8035 E R.L. Thornton Freeway Ste 107 Dallas, TX 75228


Fast Cash Advance is an optional tax-refund related loan provided by First Century Bank, N.A., member FDIC (it is not the actual tax refund) and is available at participating locations. The amount of the loan and applicable interest will be deducted from tax refunds and reduce the amount that is paid directly to the taxpayer from the refund. Fees for other optional products or product features may apply, and will be disclosed at the time of application. Tax returns may be filed electronically without applying for this loan. Loans are offered in amounts from $500-$6,000 and are offered both pre–IRS acknowledgment of the tax return and post-IRS acknowledgment of the tax return. All loans have an Annual Percentage Rate (APR) of 39.95%. For example, for a loan of $2,000 with a repayment period of 30 days, the total amount payable in a single payment is $2,065.67 including principal and interest. Loans subject to the Military Lending Act have a lower rate. Not all consumers will qualify for a loan or for the maximum loan amount. Offer and terms subject to change at any time without prior notice.
Ananiah's Tax Service© Copyright 2021 - Powered By First Solution.